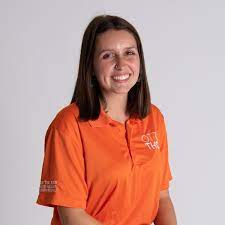 Hey Ms. Vrees! 
Hi!
What do you do here at Bancroft? What do you want people to know about what you do?
I'm an Upper School academic support teacher, I help students based on their individual needs, so anywhere between organization, issues with procrastination, or needing someone to walk them through things. I'm here as a tool and a teacher for whatever students need. 
What's your favorite part of Bancroft?
Cross country!!
Right answer.
It's so fun! It's a great team, good kids.
I've heard they're pretty great.
Yeah they're pretty good. I did start here as a cross country coach, so I think I'm a little biased. But that's okay.
What's something that you enjoyed doing in high school?
I also ran, I ran twelve seasons in high school.
Wowwww!
Not a great runner anymore, but I also did a lot of community service, we had a red cross club in high school. I was not on student council, that was scary to me
That would be scary to me too. I understand. Do you have any advice for current students?
Do things for you, and don't do it for other people. It's important to listen to the adults in your life, but don't just do it to put it on a college application or a resume because ultimately that's not going to satisfy you, and it's not going to fulfill the person that you're going to be in the future. I think a lot of kids get stuck on doing the "best" thing or "most important" thing, but if you just do you, that's where you are going to succeed. 
That was beautiful. Okay, here's a fun one: what would a perfect lazy Saturday look like to you
Lazy Saturday?!
Mhm.
What constitutes lazy?
I guess that's up to you. Maybe it doesn't need to be lazy. What do you want to do on a Saturday? What is Coach getting up to on a Saturday?
Well recently, it was a good Saturday! I went farm hopping! We went to a bunch of local farms. It was kinda lazy because we didn't drive very far, but we just chilled with the animals, food, fresh veggies, it was very nice. And then a good movie after, or a home cooked meal. Or take out. 
Aww that sounds so cozy! Last one. What are you listening to right now?
Music wise? Podcasts?
Throw in some podcasts too if you want! Up to you.
I love The Daily, New York Times, The Daily. I've been slacking recently but it's always great, short and sweet, very helpful to keep up to date with the news. I'm going to the Lauryn Hill concert on Friday-
OH MY GODDDD i'm so jealous of you
So I've been listening to a lot of Lauryn Hill and the Fugees. I also like Funk and a lot of Hip Hop. I really like the band Brent Jones and the Indications, kinda funky. Big Mac Miller fan, I could go on and on… Arctic Monkeys, Mt. Joy, Glass Animals. 
All good ones. Thanks Coach!