Interview with Dr. Miller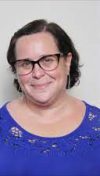 Why did you come to Bancroft?
Prior to this job, I taught both high school and college. I taught math at Marlborough High School for 19 years, then went back to school to get my doctorate in Math Education. I spent the last 7 years teaching pre-service teachers at a few different colleges. While I absolutely loved teaching the courses, I never really felt as though higher education was my space. When I started looking for alternatives, I saw the job at Bancroft and was excited to be able to teach in Worcester (where I live) and to have a new experience teaching in an independent school. I went to public schools, taught at a public high school, and my children all went to public schools until now, so this is a brand new adventure.
What is your favorite part of Bancroft so far?
Definitely the people. The faculty and staff have been incredibly welcoming and supportive. I am enjoying getting to know them and also getting to know my students. 
What got you into teaching?
When I was in high school, there was a day called "Senior Teach Day" where seniors took over a teacher's classes for the day. I was my math teacher for the day and I knew by the end of the day that I wanted to teach. It was really exciting to help students understand things and see them succeed. 
Math isn't most people's favorite subject. What got you into Math?
First, I'm not sure that math isn't most people's favorite subject. There is a negative stigma about mathematics classes that permeates different parts of our culture, so it can be unpopular to say you enjoy math even if you do. Everybody is a math person! That being said, math was not something that brought me any joy throughout most of school. I didn't hate it, but I greatly preferred English and music. In 11th grade, I took Pre-Calculus with Mr. Doren (same teacher I would later "become" for Senior Teach Day). In the first few weeks of class he noticed I had different and interesting ways of solving problems. He gave me different work to do than my classmates which really allowed me to explore and push myself. He was the first person to both notice something in me and also to open up the beauty of mathematics to me. He was such a champion for girls doing advanced math (not too popular way back when) and was very forward thinking with his instruction. I had Mr. Doren for both 11th and 12th grade math and there is nobody more responsible for the path my life would take.
If you could have five minutes to speak to one person, who would it be?
My Grampa Jack. He was my absolute favorite person in the world (I named my son after him). He passed away in 2004, but he is still the person I strive to make proud every day. Anything good you could say about any person was true of him.
Is there something you regret not doing in high school?
I try not to live with regrets, but the one thing that comes to mind is spending less time playing the piano. I can still play a bit, but I know I could be so much better if I had stuck with it more seriously.
What advice would you give to current high school students?
DO THE THINGS THAT BRING YOU JOY. Do you love to sing but think you don't have a good voice? You should sing! Do you love to play soccer but you think you aren't a good enough athlete? You should play soccer! Read all the books. Listen to all the music. Go out into nature. Embrace your inner math geek. Whatever brings you joy is the thing you should do. 
Is there somewhere that you've always wanted to travel to?
I have been extremely fortunate to have traveled quite a bit, but I have never been to Israel and that is definitely at the top of my list.
What is your happy place?
Chileno Bay Beach in San José del Cabo, Mexico.
Favorite musical?
Impossible to choose only one. I love so many of them. One favorite is Chess, which I have actually never seen performed but the music is incredible and the female lead has been my dream role for forever. The best musical I ever saw performed was Come From Away. The whole show is so brilliant. The music, the staging, the way they use the cast, the story, it's all there.
What's your favorite thing to do in your free time?
I like hanging out with my kids and my wonder dog. I love to read. In the past few years I have gotten back into performing with different community theaters which has been incredibly fun.
Is there anything else you'd like to let us know about yourself?
Yes, I really do love mathematics as much as it seems like I do 🙂