"Uncharted" Movie Review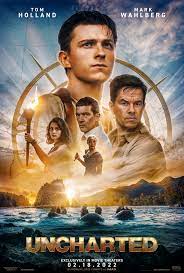 The weekend following February the 18th was 2022's best grossing weekend yet, knocking Spiderman No Way Home out of top spot in cinemas. The movie that made it a hit – Uncharted, featuring rising British actor, Tom Holland, and 2015's Daddy's Home star, Mark Wahlberg. 
The film follows streetsmart Nathan Drake and his mentor Victor Sullivan, as they embark on a quest to find Ferdinand Magellan's 500 year old lost treasure, and perhaps even Nathan's long lost brother Sam, that is if the two can work together. 
The movie had it all. Comedy? Plenty, sprinkled throughout the movie. Action? Well does swinging from lights to crash a party count? Adventure? I'm pretty sure a dangerous gold quest with shooting arrows and maps from hundreds of years ago is the very definition. All in all, Uncharted was in turn a fairly exciting movie. 
Uncharted is an adaptation of the Playstation video game Uncharted, whose first of the series was released in 2007. The video game was praised for raising gaming standards in storytelling, animation, and design. The potential of the movie failed to match up with the praise of the video game, which led to a great deal of disappointment with many players. The movie first entered development in 2008. At the time of its primary stages Mark Wahlberg was initially set to play Nathan Drake, but over time grew out of the age range the main character was meant to appear. Only then did Tom Holland take over the role of Nathan and Wahlberg set into the role of mentor, Victor Sullivan. Viewers of the movie felt as if it was not an adaptation of the videogame, but rather another generic adventure-action movie with villains, heroes, and the occasional standoff. 
Although the movie didn't live up to its potential as an adaptation, the movie is a good adventure film on its own, especially for those looking for an equal mix of action, adventure and comedy. With a funny cast and an intriguing plot, it will keep your mind hooked and send you thinking of going on a tropical gold quest yourself.
Rating: ⭐⭐⭐⭐
Rated: PG-13
Running Time: 1h 56m