Top Ten Books We Read in 2021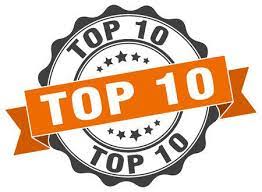 To wrap up 2021, we're back with our favorite books we read in the year. Most of these books did not come out last year, but they were notable enough to include them in this list. After an interesting year, these books were our favorite worlds to escape to. 
10. The Book Thief Markus Zusak 
You pay attention when Death tells you a story. Leisel Meminger began taking books from Nazi book burnings when she was a little child living near Munich, Germany. The novel takes the reader on Leisel's journey to write a book about her life during such a traumatic time as more books are read. As she reads more books, the novel brings its reader through writing a book about her life during such a miserable time. Leisel's life experiences horrify Death itself, and he says, "I am haunted by humans." Even at its length, this novel's prose is poignant and philosophic, making it a work to read slowly and absorb. 
9. Caraval Stephanie Garber
Step into a fantasy world where everyone can change their destiny if they are brave enough to fight for what they truly desire. Scarlett and Donatella Dragna, confined to the little island of Trisda, take the risk of a lifetime to live out a week-long fairytale on Caraval. It's impossible to say whether the people the sisters met were magic or genuine, or whether the life-changing experiences they had were true. Caraval is a fascinating tale that combines fantasy and reality in a gripping storyline full of twists and turns and characters who are impossible to categorize as good or evil.
8. Clockwork Angel Cassandra Clare
This book was one of our most recent reads. This book was action-packed and filled with lots of mysterious characters that leave you wondering about their pasts. Though it had a slow start of the first chapter, it very rapidly picked up the pace. As a prequel to the story, this book follows Tessa as she uncovers the mysterious world of Shadowhunters through Victorian England. Tessa comes face to face with Downworlders (read it to find out who they are!), love and one major question: who is she? I know that once I finished reading this book, I immediately had the other two in my bookstore shopping cart.
7. One of Us Is Lying Karen M. McManus
We finally hopped onto the One of Us Is Lying bus and met all of the amazing characters everyone was talking about. This book was filled with alternating perspectives leaving you with a question of who is lying and of course, an enticing mystery that keeps you holding on to the end. Five students enter detention. Four leave. How did the student die, when all he had to drink was a cup of water? All the secrets we didn't know were the things that kept the mystery alive even when things seemed to have settled. Someone died and no one can say who's innocent.
6. Little Women Louisa May Alcott
A sweet classic for everyone, Little Women is a must for this top ten list. With four loving sisters and a bittersweet story about love and friendship, the adventures are one you think about constantly. We get to follow the four March sisters, Meg, Jo, Beth and Amy, and their best friend Laurie, as they face the troubles of growing up. Though a slow book and described as a collection of short stories, it is well worth pushing through and in the end, and it leaves you reminiscing about your own youth. Overall, this is a classic that sticks with you and finds ways into your mind every day.
5. Where the Crawdads Sing by Delia Owens
This book was one that stays in your mind long after you close its last page. Its words were written like poetry, every line painting this serene scene in your mind. Kya Clark, nicknamed Marsh Girl in town, raised herself and created a life of her own with nature. She captivates those who see her, until a tragedy occurs. A story tragically beautiful with a main character that intrigues you until the end and a mystery that makes you question all evidence, this book is one all should read. Delia Owens crafted an unprecedented story, unique and unlike anything I've read before.
4. The Invisible Life of Addie LaRue V.E. Schwab
There is no way that Addie LaRue would have not made the top five on this list. The story is exceptionally written with a journey through time that makes you wish you were there. Seventeen-year-old Addie LaRue has seen three centuries of evolution, dating back to 1700s France. The way she got there? Well they say "no matter how desperate or dire, never pray to the gods that answer after dark," and she did just that. When I finished this book, I couldn't stop thinking about Addie and her story. Even now I think about the mystery and wonder where Addie would be now.
3. Tokyo Ever After Emiko Jean 
Izumi Tanaka has never felt at home in her small, predominantly white northern California town as a Japanese American. Izumi discovers her father's identity for the first time and it turns out he is none other than the Prince of Japan, which only adds to her sense of remoteness. She must adjust to her new world, which is full of paparazzi, dresses, and tiaras, without calling too much attention to herself. A contemporary novel with a premise that is reminiscent of that of The Princess Diaries, it is a fantastic coming-of-age story.
2. The Hawthorne Legacy Jennifer Lynn Barnes 
The second mystery novel in the Inheritance Games trilogy, which is almost as good as the first, comes in second on our list. Avery and the Hawthorne grandsons are on a mission to find Toby, the billionaire patriarch's one and only son, who was reported dead following a fire but may still be alive. Answers to the mysteries surrounding the characters periodically lead to more questions as the pace quickens and red herring after red herring emerges, leading up to the conclusion of this novel. An open ending—and a bolder Avery—are ready for the next set of Hawthorne challenges.
1. The Inheritance Games by Jennifer Lynn Barnes 
This year's top novel that we read is one that is full of mystery and suspense as clues are answered and more are discovered. One day Avery – with her mother dead and her father missing for years – is living out of her car. The next day, she is en route to the Hawthorne House, a mansion in Texas, the next day, where she is to inherit billionaire Tobias Hawthorne's fortune, a man she has never met. As a condition of accepting her fortune, she must live with his family for one year, but the question of why Avery was chosen to inherit all of Tobias' money looms over the family. Each phrase of the novel leaves you wondering if the words you're reading could be the key to solving the mystery. Featuring a mixture of Knives Out and The Westing Game, this is undoubtedly the book of the year.