The Hawthorne Legacy: Book Review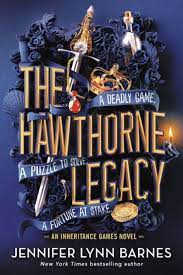 Picking up from where Jennifer Lynne Barnes' The Inheritance Games left off, The Hawthorne Legacy's main character, Avery Grambs, and the four Hawthorne grandchildren are on a journey to find Toby, the late billionaire's son, who was assumed dead after a fire but may still be alive. Avery and the young Hawthornes put together the events of Toby's disappearance using perplexing clues and more complex secrets left by the late family patriarch and Toby himself. 
In this second story, new characters emerge, including Avery's best friend, Maxine Liu. Action-packed chapters with new threats to Avery's life and an ongoing love triangle between Avery and two of the Hawthorne grandsons drive the plot forward once more. This novel relies on sleuthing to fill in the backstory around the Hawthorne bloodline and Avery's own heritage rather than the brainteasers that made the first book so enjoyable. Are the two related? As the pace quickens and red herring upon red herring prevails, the solutions occasionally lead to more questions, leading up to the finale of this part. An open ending—and a more confident Avery—are prepared for the next set of Hawthorne challenges.
Jennifer Lynn Barnes delivered another fast-paced masterpiece, with a plot that leaves you wanting more. The characters are easily likable, and you learn about new qualities in everybody. The action-packed mystery-solving segments were our favorites, but several character development parts were equally engrossing. We especially enjoyed the trip to one of Avery's vacation homes, where we got to see how much is included in her new fortune. 
In the third and (unfortunately) final book of the mystery series, we think Avery will both complete the inheritance of her fortune and find the missing piece to her history. We hope that her mother's secret is finally disclosed, just as we pray that her romantic game comes to a tragic end. Will Avery finally solve the conundrum that has burdened her for so long? What will she use her fortune for: fashion, school, charity, or vacations? Will Avery finally solve the conundrum that has plagued her for so long? What will she use her fortune for: clothes, schools, charity, or a vacation? And is Avery truly the glass ballerina or the knife? Do you have any ideas? Tell us in the comments. 
Look forward to August 30, 2022 when the third and final book to this trilogy, The Final Gambit, hits the shelves. 
Five out of Five Stars: ★★★★★ 
Recommend? Yes! 
Age Rating: Appropriate for ages 13+