Mr. Morale & the Big Steppers Album Review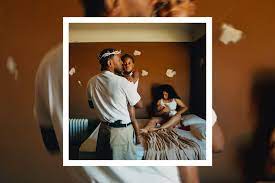 IT'S HERE FOLKS! Kendrick Lamar's long-awaited album is finally here. It's been 4 years since he last dropped his album with SZA and 5 years since he dropped DAMN. Kendrick Lamar's Mr. Morale and the Big Steppers is rich with Kanye-like production, Lupe Fiasco-like lyricism, and the continued intellect of prioritizing quality over quantity. Kendrick's history of creating and releasing hip-hop that takes numerous listens to completely digest continues with this album. So let's analyze it together!  
Kendrick goes into great detail about his personal traumatic experiences and covers significant topics throughout the album. Including indulging in sex and luxuries to grieve for his loved ones, cancel culture, his struggles as a father, the toxic relationships he was in, transgenderism, his mother being sexually abused as a child, and, most importantly, trying to find peace of mind amidst the dark clouds looming above him. Kendrick's frustration and guilt for his previous faults are expressed throughout the album as if he's in a therapist's office, which can be seen in the song "We Cry Together" with Taylour Paige. The story is unironically flawless, and the message is simple to comprehend yet difficult to interpret and examine at first glance. Songs like "United in Grief," "Auntie Diaries," and "Mother I Sober" are very comforting and essential additions to an already famous discography. There isn't much that could be improved; this album is a big demonstration of Kendrick's versatility, which is just brilliant.
The record comes across as bold, personal, and risky, while also being refreshing and innovative. This is one of Kendrick Lamar's rawest releases to date, and it just so happens to be very enjoyable. Another album from Kendrick that will leave a mark on the music industry forever. I personally loved this album and its meanings behind it and I'm sure the rap community will too. A definite listen and an early frontrunner for top album of 2022.
That's it guys! What do you think about Mr. Moral & The Big Stepper? Does it beat To Pimp A Butterfly? How would you rate the album? Let me know what you think!