Creedon: Dietary Restrictions Nightmare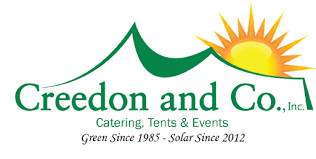 I think there is a general consensus at this point that the current food situation hasn't been working very well. Sarah wrote about the portion sizes and lack of quality food earlier in the year, and there hasn't really been any improvements to that. For everyone, the quality and quantity of food Creedon provides is lacking and it just isn't a satisfying lunch.
I am a vegetarian, and time and time again I've had issues with Creedon's vegetarian options. Last year, I pretty much ate the veggie wrap every single day due to the lack of vegetarian options on the menu. It came to a point where I had eaten the wrap so many times consecutively that I actually sent an email to Creedon requesting other vegetarian options. Then, there was the whole Mountain Day debacle, where they put chicken instead of tofu on the vegetarian sandwich. Giving Creedon the benefit of the doubt, they apologized for that, but myself and the many other vegetarians ate chips and dessert for lunch. When the new lunch program was unrolled, they said that every single day, in addition to the daily option, there would be both veggie burgers and hamburgers. In the email that was sent out, that fact was explicitly stated. They have yet to provide veggie burgers as a daily option, which is incredibly frustrating. Additionally, twice now the vegetarian option has been just rice. For a lunch service that preaches providing vegetarian options daily, the fact that the option was literally just rice is incredibly inadequate.
If the vegetarian option is inadequate, there are always the salads. However, the loss of the salad bar meant that the salads reverted to the basic garden salad with no protein. If the vegetarian option for the day is rice and the salads have no protein, what "full meal" is Creedon providing for vegetarians?
Not only are there problems for vegetarians, but there are also very clear issues with the gluten-free options and other dietary restrictions. Another student in my advisory is gluten-free and has also had consistent issues with Creedon, where they run out of the gluten-free options. She's had issues with getting a gluten-free meal every day and was actually served a meal with gluten in it earlier in the year. It seems like they only bring one or two gluten-free meals every day. Newsflash: there is more than just one student with a gluten-free diet.
Time and time again, Creedon's lunch service has proved their inability to provide quality and complete lunches for students with dietary restrictions. People have complained, sent emails, and requested additional options, but no real change has been made. Some days there are good vegetarian options, but there are other days where there is no adequate option. Please do better, Creedon.