"Dune" Movie Review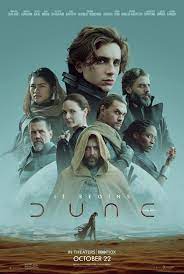 Frank Herbert's science fiction novel Dune was published in 1965. Dune is set in the distant future, in a feudal interplanetary society where several royal clans rule planetary domains. It depicts the story of Paul Atreides, a young man whose family accepts care of the planet Arrakis. The book mirrors the actual premise of the 2021 film. The novel is divided into three sections: "Dune," "Muad'dib," and "The Prophet," however the new film is planned to be condensed into only two parts. The film was released on October 22, 2021, and it has garnered an 85 percent favorable rating from Google users and an 82 percent positive rating from Rotten Tomatoes. The film grossed $300 million at the global box office. Timothee Chalamet plays young prince Paul Atreides, Oscar Isaac plays father and king Leto Atreides, Rebecca Ferguson portrays mother and queen Lady Jessica, and Zendaya stars as the overrated character Chani in the 2021 film. One disclaimer: despite the fact that Zendaya is widely promoted for her role in this film, she only has seven minutes of screen time.
The film was well-made. Although, keeping up with what is going on can be tough, especially if you haven't read the book. As the film went, you became more familiar with the characters and had a better understanding of the universe and its conflicts. The movie doesn't have much conversation from the actors, but the imagery and sound are captivating. One peculiarity we noticed is that, despite the film being set in the year 10,191, the setting is out of date, as the characters dress in robes reminiscent of the Ancient Greeks, the housing appears to be all made of concrete and dull in appearance, and the characters rely heavily on hand-to-hand combat rather than futuristic armory. That being said,  we still thought it was a fantastic film that offered the audience an interesting experience.
Warner Bros. will release Dune: Part Two in theaters on October 20, 2023. The release date puts the sequel roughly two years after "Part One." We feel that because the film concludes with an interaction between Zendaya and Timothee Chalamet, the characters' relationship will proceed considerably further in the sequel.  We anticipate that the second film will fill in any gaps the first part left open. 
Rating: ⭐⭐⭐⭐
Rated: PG-13
Running Time: 2h 35m