A Cinderella Story: 28 Years in the Making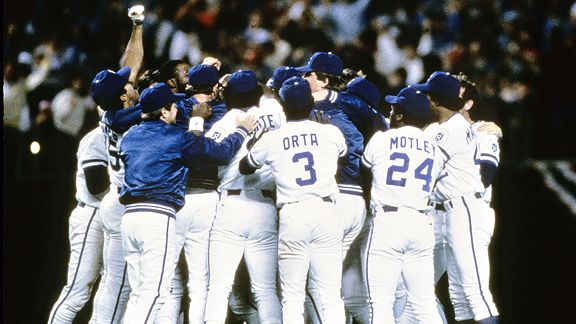 Hang on for a minute...we're trying to find some more stories you might like.
The Kansas City Royals had not made it to the playoffs since 1985, when they won the World Series. Their streak of 28 straight playoff-less seasons was the longest active streak in baseball, and the second longest streak of all time; that's 4,536 games (and well over 40,000 innings) in between playoff appearances. Even using a low estimate of 2.5 hours per game, between 1986 and 2013 the Royals had played 11,340 hours of regular season baseball, and 0 hours of playoff baseball. Naturally, when the AL Wild Card game was played on September 30th at 4:45 at Kauffman Stadium in Kansas City Missouri, the city was buzzing.
By the eighth inning, the roar of the crowd had faded into a shocked silence, as the Royals trailed the Oakland Athletics by three runs; however, the Royals fought back, putting up a run in the bottom of the eighth, and tacking on two more in the ninth to send the game to extra innings. The tenth and eleventh innings passed without incident, but in the top of the twelfth, the Kansas City fans were once again silenced when Oakland's first baseman, Alberto Callaspo, shot a single to left field, scoring Josh Reddick. The game was surely over; there was no way the offensively weak Royals could produce two late-inning rallies in the same game. But after 28 years and 4,536 games of regular season baseball, the Kansas City faithful were not ready to give up. In typical Kansas City fashion, the Royals managed to push one run across on an infield single in the bottom of the inning to wipe away the Athletics' one run advantage. Then, with two balls, two strikes, and two outs, Kansas City catcher Salvador Perez pushed a ground ball through the left side of the infield, scoring Christian Colon and winning the game.
        The Royals were guaranteed three more playoff games, and they won all three, sweeping the team with the best record in baseball, the Los Angeles Angels of Anaheim, in the American League Divisional Series. Kansas City won two of the three games in extra innings, tying the Major League Record for most extra inning games won in a single post season at three. Now they play the Baltimore Orioles in the American League Championship Series, vying for a birth in the World Series. Is it improbable that the Royals will win the World Series? Yes, without a doubt. The idea that a team could win 2 World Series, 28 years apart, without a single playoff birth is nearly inconceivable; however, the Royals have the chance to do just that.