2020 In Review: Some Silver Linings
This year has been extremely challenging for many, but as it comes to a close it is important to reflect on all the good that has happened this year.
Reduced Pollution from Worldwide Shutdowns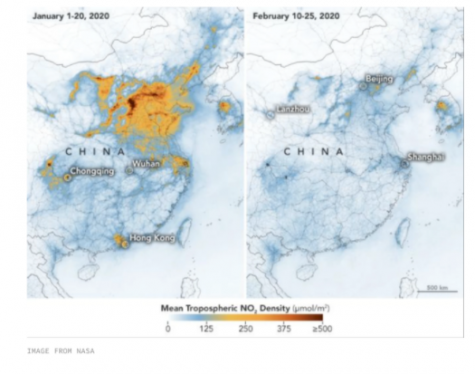 Primarily in early spring, most human activities including work in factories had to be shut down due to the COVID-19 pandemic. As a result, carbon-emissions dropped drastically. It is predicted that by the end of 2020, CO2 emissions will have decreased by 1,600,000,000 tonnes for this year, which is a 5.5% decrease from 2019.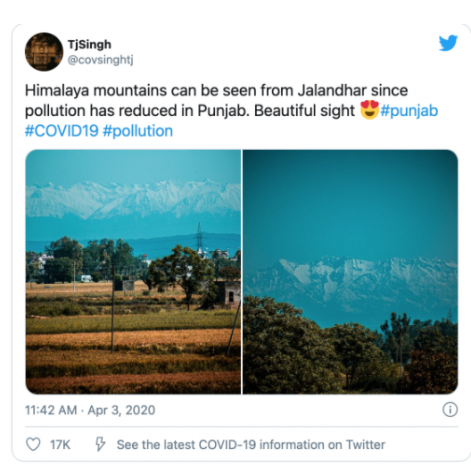 This widely due to the closure of factories, as well as the decrease in travel with planes and automobiles. This decrease is so huge, it would be like taking 3.46 billion cars off the roads for an entire year! This fall in CO2 marks the biggest drop in recorded human history.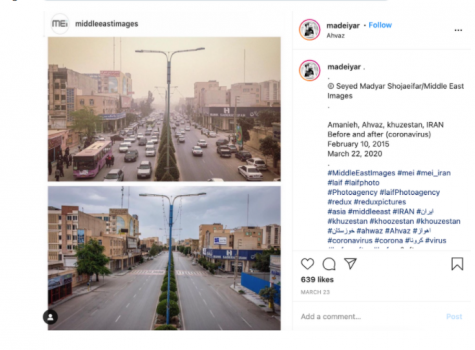 Many see this as hope for the future, and how humans really have complete control over carbon emissions and pollution. Although these effects won't last forever, it is positive that nature was even able to heal for a few months.
Artist's flourish in isolation
With artists in quarantine, we saw the creation of several projects that have left a great positive impact on the world. Many of these were musical projects. We saw massive hits from The Weeknd, Post Malone, Dua Lipa, Cardi B, Megan Thee Stallion, Roddy Ricch, Doja Cat, Ariana Grande, Lady Gaga, and others. Here is a glimpse of the biggest and best albums released in 2020 in each respective category of alternative, R&B, Pop, and Rap (based on Rolling Stone and Billboard).
Folklore – Taylor Swift. Released as a surprise album in late July, folklore became the best selling album of the year in just a day, selling 1.3 million copies worldwide in just 24 hours. Although many may have underestimated Swift's talents in the past, in folklore they are undeniable. Written entirely in isolation, she abandoned her familiar pop hits for a more authentic indie alternative sound. The album received massive critical acclaim and spent 2 months on top of the Billboard Charts, the longest for any album since 2017. It is up for 6 Grammys in 2021 including album of the year.
After Hours – The Weeknd. Containing one of the biggest hits of all time (according to data from the Billboard Charts), After Hours was one of the biggest albums of the entire year. The lead single Blinding Lights was the #1 biggest song of the year, and spent an entire year in the top 5 of the Billboard Charts. The album was one of the bestsellers of the year and its R&B sound has revolutionized the music landscape in 2020. Despite being one of the biggest and best albums of the year, The Weeknd received 0 nominations for the 2021 Grammys, causing outrage. He called out the corruption in the Recording Academy in a series of tweets. But luckily he announced he would be headlining the Superbowl Halftime Show in 2021.
Future Nostalgia – Dua Lipa. Containing the hit singles Don't Start Now, Break My Heart, and Levitating, this album was a worldwide celebration. Its retro synth beats and disco pop sounds had us dancing through 2020. It's lead single Don't Start Now is the biggest hit by a female artist this year. The album received critical acclaim and also received 6 nominations at the 2021 Grammys including album of the year.
Eternal Etake – Lil Uzi Vert One of the biggest rap albums of the year, Eternal Etake topped the charts while also receiving high critical acclaim. The album dominated Spotify in the spring and is certified platinum in the United States. According to many, this album is the best rap album in recent history, with a clear concept that simply outdid any other hip hop album this year. 
Here are some other notable albums released this year:
Punisher –

Phoebe Bridgers

My Turn –

Lil Baby

Plastic Hearts –

Miley Cyrus

Shoot for the Stars Aim for the Moon –

Pop Smoke

Kid Krow –

Conan Gray

Chromatica –

Lady Gaga

Legends Never Die –

Juice Wrld

Gaslighter –

The Chicks

Manic –

Halsey

Please Excuse Me for Being Antisocial –

Roddy Ricch

Ungodly Hour –

Chloe x Halle

Women in Music Pt. III – HAIM
Fetch the Bolt Cutters – Fiona Apple
This was a great year for music, with so many artists releasing new projects. Let us know which ones were your favorites!
Global Trends That Brought Us Together
Despite a year of widely being disconnected from the world on a physical level, as a society we are more connected than ever before on the internet. Trends brought us together this year, and here are some of the most memorable.
Tik Tok – The biggest trendmaker of the year. The social media platform blew up in late 2019 and has gotten even bigger during quarantine. Tik Tok created most of the global trends we have seen in 2020, whether it be challenges, viral dances, or viral songs. 
Tiger King – One of the most unexpected trends of 2020: A Netflix docu-series following the wild industry of big cats in America. This series starred Joe Exotic and Carol Baskin, two enemies who did whatever it took to take down one another. Even hiring a hitman to murder one another, or feeding their husband to the tigers (allegedly). This action packed non-fiction documentary was released in March and became a sensation.
TV Series – Tiger King wasn't the only series to break the internet this year. Shows like Euphoria, Waco, Hollywood, You, The Circle, Too Hot to Handle, Schitt's Creek, Space Force, Filthy Rich, Love is Blind, Avatar, Outer Banks, and Ozark created quite the hype as well.
Pet Adoptions Reached an All Time High
Local shelters saw an extreme increase in the number of pet adoptions during quarantine. And just as good, shelters have not seen an increase in stray animals, meaning more animals found homes this year than ever before. Adoptions and fostering is up 197% from last year!
Record Voter Turnout: Most in U.S. History
The 2020 election was one of the most consequential elections in our nation's history undoubtedly. With 66.6% of eligible voters in America turning out to the polls, the 2020 election had the highest voter turnout in over a century. Almost 150 million people voted this year, which is the highest number in history. Despite whether you view the results of the election as negative or positive, this year we saw how important each person's vote is. 
Parasite wins Best Film at the 2020 Oscars
Taking home 4 Oscars including the coveted "Best Film", Parasite was a massive win for Asian representation in Hollywood. Parasite became the first international film in history to win Best Film. Although some may perceive this as small, it is a great step forward in achieving equality in Hollywood.
SpaceX Makes History
In May 2020, the age of "private space exploration" began. Prior to this launch, no private company had ever sent astronauts into space. The SpaceX Dragon launched on May 30 sending astronauts into orbit, making history.
Hamilton Comes to Disney+
Over the summer Hamilton was finally released exclusively on Disney+. In a time where theater can't happen live, this release once again brought the spotlight back to the stages of New York. The smash hit won 11 Tonys back in 2016, making it one of the most awarded shows in history. The future of Broadway is extremely unclear right now, so it is great that the community was able to come together in such a difficult time.
As 2020 comes to a close, it is important to think about what everyone has gone through this year. It has undoubtedly been an extremely hard year for everyone, and it may be hard to see any positives. With that being said, we can be grateful for what we do have, and appreciate what helped get us through this year, whether it be your friends, family, movies, music, etc. We all have a chance to have a new beginning starting on January 1, and I hope that everyone has a happy and healthy new year. 
Thank you for checking out my article, and please feel free to mention your favorite part of 2020 below in the comments!