Things to Do on Halloween!!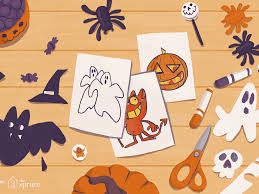 Rosend Pena, Editor
October 29, 2020
Hey, you beautiful people! Halloween is just around the corner and this year, although very different from previous years, can be just as fun. While I'm finishing up my college applications (don't laugh, you'll be in my shoes one day), you all can: 
Dress your pet in a spooky way. Put a blanket with two holes over the animal and go crazy with the photos!

Make all of the Spooky Tasty treats in the world. In the last issue, I gave details on how to make some of my favorites so go check it out!

Make your own Haunted House to spook your family as they enter their home. Sit in the closet and wait for them, and keep spooking them until they let you eat all the candy!!!

DIY everything you can. Little pumpkin origami pieces are my favorite. Here is a video link in case you wanna give them a try. 

Watch a horror movie. Guess what, it's Halloween, and what best way to spend it than being cuddled under a bunch of blankets with some apple cider, some donuts, and a nice scary movie.

If you can drive, take a drive while playing some old throwbacks. My favorite fall song is "Sweater Weather" and trust me, you'll feel the vibe! Here is the link: https://www.youtube.com/watch?v=74yLJbdkkRo

And lastly, just have fun. Don't worry if you can't go trick or treating or hang out with friends. There will be a lot more Halloweens to come.
I hope you can find one of these to do!!!! Happy Spookyyyyyyy day!