WELCOME, Ms. Williams!!
So first, why did you come to Bancroft? 
How I got to Bancroft specifically was I knew Mr. Mercurio who works in marketing (while I was at BU he worked in athletics there), and I happened to apply to his assistant position that was posted. I couldn't start as soon as the position was needed, so he put me in touch with Mr. Ganas in admissions so it's kind of weird how I ended up in the position that I am. But when I came to campus the first time, I liked that it was a private school because I grew up in public school, and I think everything the school offers here is awesome. And the community! Everyone knows each other! One example of that was at orientation week: the students were just as excited to see the teachers as the teachers were as excited to see the students, which just shows how great the community is here and how close everyone is with each other.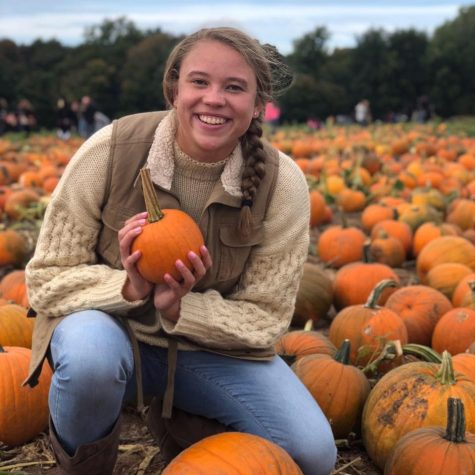 I saw that you played basketball for BU! What was that experience like and what do you miss most about it?
My four years at BU were the best years of my life so far. We didn't win that much, so I think that says something that I would go back in a heartbeat if I could. But I would say what I miss the most are my teammates. In high school, everyone's from the same town, but in college people can be from anywhere. I'm still close to some of my more local teammates, but the ones that live further away, we only see each other at events like alumni weekend. But we were a really close group, so what I miss most is seeing them everyday.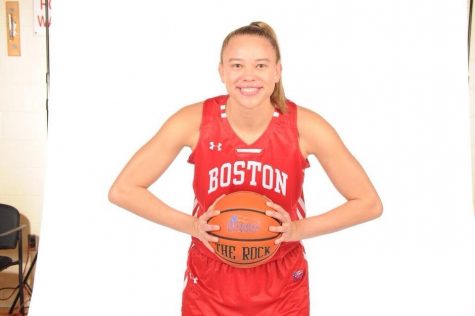 What's your favorite high school or college memory?
My favorite college memory… I think when I was playing basketball, on my senior day, my sister surprised me and invited about 60 people (old high school teammates, family, friends of family). She ordered these red shirts with my face on them! So everyone sat in the same section and it was just like a sea of red! So that's definitely my favorite college memory. My favorite high school memory would be that I got to play basketball for two years with my older sister.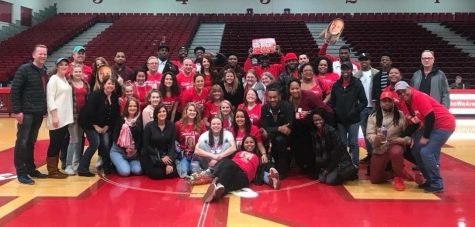 What's your most surprising or favorite thing about Bancroft so far?
 This may be less true now with Covid restrictions than when I came to visit, but the freedom that you have as students. When I came during my visit, some of you would be hanging out in the Hub, some would be in the gym, some would be sitting somewhere in a corner studying. I love how it's really on you, and on how you're going to take advantage of your learning here, and the respect and trust that the faculty have in you to do that.
What's your favorite thing to do in your free time?
After graduating college I got into running a little bit; in 2019 I did Race Every Month which was just 5K distance, and as I got more comfortable with that I ended up training for my first half-marathon (which I'm not going to do again!). But when I was in college, I told my coaches all the time, "As soon as I'm done, I'm never running more than 2 miles!" But after a year, I thought, "I'll give it a shot!" I don't want to say it's a hobby of mine, but it's something I'm most likely to be doing on the weekend.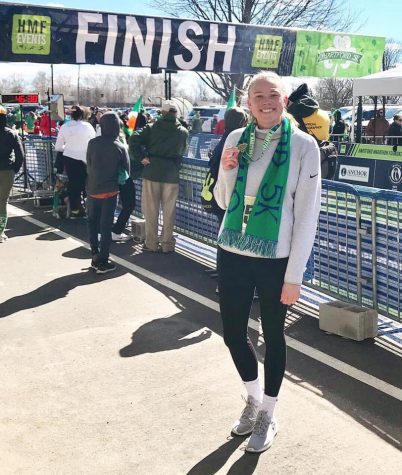 I'm also a big reader. Since I moved to Worcester, I'm trying to start a more high-end book collection filled with more of the classics, so definitely reading and running.
Where do you most want to travel?
I would say right now, probably Italy. In my spring semester of my second year of grad school I was supposed to go to Italy for a week, and Covid interfered with that; it was right around when Italy was a really Hot Zone, and they didn't want to take the risk of us going. So Italy is top of my list as soon as it's safe to travel again.
What's your favorite movie or TV show?
Favorite movie hands down is Remember the Titans. My favorite TV show of all time would probably be Law & Order SVU. In terms of binging right now, I'm actually re-watching One Tree Hill, which is kind of lame to say, but I just needed something with a lot of seasons during Covid.
What's your favorite singer/band/genre of music? 
I would say my favorite genre is the 80s, but my favorite group is Maroon 5. Covid almost killed my dreams of seeing them for the third time, but the concert just got postponed until next year. So a longer wait time, but the tickets will still be valid and that's all that matters!
If you could accomplish one thing in life, what would it be?
That's a really good question! In terms of jobs I've never been one to have a dream job cause I feel like I'd be too blinded towards that one thing. I think I just want to be a really well-rounded person. I want to meet a lot of people from different places and experience things.I guess my goal or dream in life is to live a really fulfilled life and whatever definition it's kind of open-ended, but I'd say that's a big dream of mine
What advice would you give to current high school students?
Oh, that's good because I worked at a summer camp after I graduated college (it was overnight), and I lived with girls going into their senior year and I would say that there's so much more to life beyond high school. Whatever seems big now, as soon as you walk out these doors, there's so much more life to live than what's in these four walls, or 4 buildings so to speak. So I would just say be patient, give things time and don't fear hard work or things that challenge you, cause that's just how you grow.