This Halloween: A Full 'Hunter's Blue Moon' for the First Time in Almost a Century!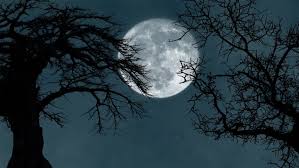 The last time a full moon illuminated the night sky on Halloween was in the midst of WWII, over 75 years ago. 2020 has been a spooky year for sure, and this Halloween will be too. But this October 31 there won't just be a full moon, a Halloween Hunter's Blue Moon will light up the sky.
This is a super rare occurrence.
Although the moon won't appear blue, a blue moon is when there are 2 full moons in 1 month, which is very interesting on its own. Not only that, but the moon is going to be a Hunter's Moon. This appears just after the harvest moon in October, and it means the moon will have a red-orange tint to it. This Halloween will be different because of the pandemic; however, Mother Nature gave us something super cool to look at instead of trick-or-treating. This rare occurrence won't happen again for 2 decades, so it's important that you get a look at it while it is here!
How perfect is it that one of the scariest years gets a super spooky Halloween Moon! 2020 will have 13 full moons in total, which is a superstitious sign that this year was going to be unlucky. Starting at 10:31 am on Halloween, the full moon will be high in the sky! Make sure you don't miss it or else you'll have to catch it in 2039!