Andrew S's College Essay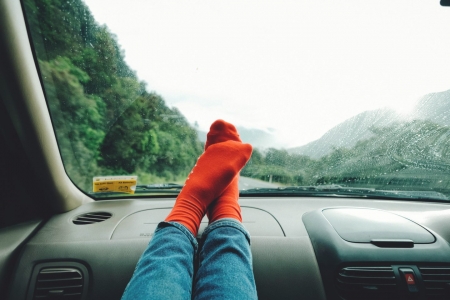 Andrew Stahovec, Contributor
January 21, 2020
I had been up since the wee hours of the morning, playing Lego Star Wars on the Wii I had begged my dad to buy. All the other kids at school had them so, naturally, I whined for months about all the difficulties of life without one. My mom yelled downstairs, saying that we would soon have to leave for my brother's hippotherapy, a weekly occurrence to which I was begrudgingly dragged. I cherished those monotonous 25-minute rides in the back of our minivan, where I could watch my Scooby-Doo Blu-Ray in peace as my saintly mother dealt with keeping my youngest brother entertained.
I think part of me enjoyed those cold, autumn Saturday mornings, whether for the horse rides I wrangled my way onto or for the shoulder-rides I gave Ben, who seemed to never want to let his feet hit the floor. I suppose this might sound rather typical, but it is the individual pieces of this great big picture that some might find very different. My brother Henry has a mitochondrial disorder which rendered him dependent for all his care, and my youngest brother Ben, now on my shoulders, has Down Syndrome. It was my normal.
Being the eldest of three boys ages eight, seven, and three respectively, my parents required me to step-up, to put my brothers' needs before my own. Lessons that would take others years to learn, I was obliged to pick up very quickly. I trudged on, perhaps thinking to myself that I was doing them a favor by hanging out with Ben and Henry instead of watching TV. In truth, they did me the favor-  providing life experience that I wouldn't trade for the world. 
Oftentimes, I find myself seeking out people who remind me of my parents, which might seem like social-suicide to some. I found I enjoyed the company of the various therapists who visited regularly. The conversations about anything and everything were significantly more entertaining than those at the boys' lunch table at school. My brothers' therapists and respite providers offered my first exposure to this community of people — the same community I would strive to surround myself with years later. 
Sure, I'm semi-obliged to cite my parents and brothers as having made the largest impact on my life, but that credit must be shared with the selfless people my parents met along the way. I learned some big lessons from the counselors and siblings of campers at the Hole In The Wall Gang Camp, where kids with life-threatening illnesses spend a week living like the rest of the world — one where their illnesses don't affect how they are perceived. We've met innumerable volunteers through the Miracle League, who've helped and encouraged my brothers to play their hearts out on the baseball diamond. Finally, there is the trend too of seemingly angelic caretakers my parents employed to watch my brothers on the off chance they found themselves out of the house. These were the people I wanted to surround myself with as a child and continue to seek out in all I do. 
The compassion they showed my brothers, and their ability to always put others first, regardless of their own circumstances, are traits that I aspire to embody as I grow up. I found myself following in their footsteps, volunteering at Miracle League as many Saturdays as my schedule would permit and working as an aid at an extended school year program for children with learning and behavioral disabilities. I'm privileged to be able to answer the age-old question: "who do you consider to be a mentor?" with a list of people who have inspired me to do better by others. Whether in my personal or professional life, I will endeavor to serve others, with all the motivation I can muster.