Fall Sports Wrap-Ups!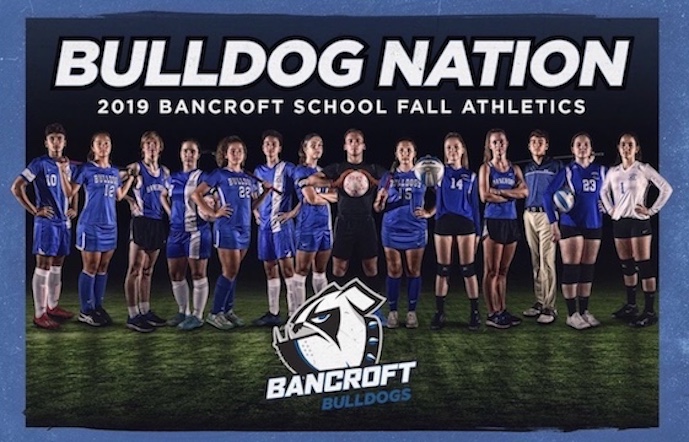 Bancroft Team Players, Writers
November 24, 2019
Girls Varsity Soccer
The season was really good; although we didn't have the best record, we all played hard and tough, and for the most part worked together as a team. Aside from a few handballs myself, coming in new I thought I did pretty good. Not only did the team work hard together, but we also had loads of fun at the appropriate times. For example, when we were losing 6-0 we decided to play hard and have fun at the same time: we started cheers in the middle of the game and pretended we were on "Friday Night Lights" when the football field lights turned on and it was getting too dark. Overall, we avoided triple e, had loads of fun, and learned a whole new vocabulary thanks to the one and only Ridgway. – Brooke Husson
Boys Varsity Soccer
With a lot of our defensive line graduated — and some of our midfield — it didn't seem that Boys Varsity Soccer would be very successful. Surprise! We were! With lots and lots of lectures from our coach and a new assistant coach we got some of our biggest wins in my Bancroft career. The highlight being a hoco win against the NEPSAC champs LCA! Overall, a better season than expected.  – Matthew Baker-Grunza
Girls Varsity Field Hockey 
Varsity Field Hockey had another great season, beating last season's record by 2 wins and placing higher in the EIL rankings. They had a lot of great wins and even more memorable moments. They kicked off their season with 4 shutouts, beating LCA 6-0 on Homecoming, and closed their season with an unbelievable overtime win against Dana Hall. In between these wins, the team did lots of running, game sprinting, birthday celebrating, mine-field navigating, and Halloween partying. The team had a tough senior night loss against Worcester Academy but had a good time celebrating their 5 seniors nonetheless. Overall, it was a fantastic season, and they can't wait to get back out on the field next year! – Clare Shanahan
Crew
So, like, what even is Crew? Pain? Discomfort? Suffering? It is all those things and more. Crew is the sport of rowing, which has been around for a surprising amount of time. Odysseus and his buddies rowed to reach pretty much all their destinations. The Vikings rowed to villages, they pillaged — and now unsuspecting freshmen subject themselves to a season of agony.
In the fall, Crew is a club, not yet a sport. That is reserved for the spring. Nevertheless, the team participated in a trio of races throughout the season, spanning all the way from the Donahue Rowing Center in Shrewsbury to Lowell to Saratoga. The placements for the race can be found here and here. It was a valiant effort by all rowers, and the coaches continued to push both the veteran and novice rowers to the best of their ability. Everyone was encouraged to constantly be striving for better splits and faster times.
Overall… success!
Several boats flipped.
A travesty.
A conspiracy maybe?
Crew was a fun, challenging… experience.
– Bernard Santos 
Girls JV and Varsity Volleyball 
JV and Varsity volleyball had a great season this year. With a big team they had lots of fun! While they didn't have what you would call a winning season, we won in our hearts. Varsity capped off their season with a fantastic win against Eagle Hill on senior night, and JV won a majority of their games. They are sad to say goodbye to their seniors and look forward to another great season next year. – Chloe Selavka
Varsity Golf
Although we only had 1 win, the season felt like a success. Through rainy practices at Stow Acres, our team always found ways of having fun like when we played loud music on the bus and when people on the team couldn't count and forgot their scores in matches. With the sick uniforms, we were always looking good and we're ready for the upcoming season. – Thomas Mason
Cross Country
Overall, this XC season was very different than the previous ones. First, and most importantly, we won a few of our races. This is uncommon, as we don't really have a lot of people to score with. More importantly, nearly everyone set a personal record this season! This just goes to show that all of our runners gave 110% this season! Finally, at our NEPSTA championships, we actually won the guys JV race! We come home from this race empty-handed every year, so it's really special that we finally got an award!