Feel Like a Pie? A Review of Worcester Pizza Options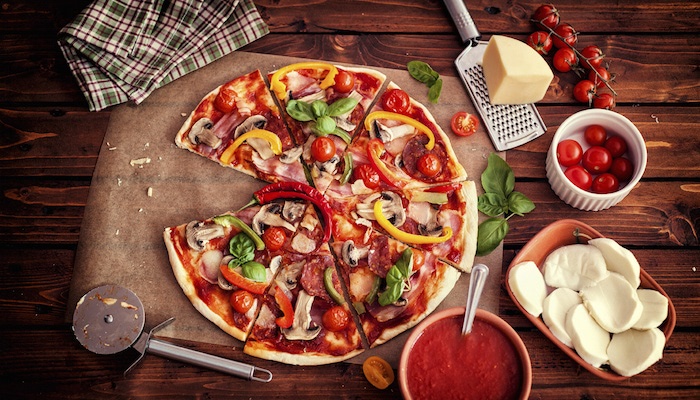 Matthew Baker, Writer
November 21, 2019
Blue Jeans Pizza
The great thing about Blue Jeans Pizza is the fact that it is not a chain and yet they have mastered the art of hot pizza delivery. After finishing a bike ride with my mom, it was a simple click to have a hot melty mozzarella Margherita pizza delivered straight to my door. The only difficulty with Blue Jeans was that they did not understand the concept of cheese, tomato and basil distribution. Each flavor was delicious, but they were separated and could not enhance each other the way I like my Margherita pizza to be.  
Brattle Stop Pizza
Looking for a BBQ Chicken Pizza after practice or a booth to share with friends? Brattle is the place for both. Brattle is a great pizza place with greasy pizza and a whole gallon of BBQ sauce. No matter how unhealthy it is, I love Brattle Pizza.
Corner Grille
This joint is a great little spot. I will drive 15 minutes for their strawberry lemonade  and their grilled chicken Caesar salad pizza is world-renowned. My issue with this place is it took 6 trips to find a pizza that I didn't have an issue with (6 trips=$$$$$). It was the Tatnuck 9, but it definitely is in my top 5. 
Worcester Pizza Factory
Ambiance: As we walked in, the door was open — supposedly to clear out the smell of burning pizza — and the phone was going. However uninviting this may seem, the kind and warm Worcester attitude that greeted me kept me in my seat. 
Food: The margarita pizza straight from the oven had a sturdy well crafted crust with flavors that did not leave much to desire. Would I crave their pizza? No, but is it a strong option on a Friday night with a Mexican coke in your hand? Yes. 
Christos
There were two big issues with Christos. One, my house was too far for them to deliver to. Secondly, when I ordered a Margherita pizza, they gave me a cheese pizza. So maybe I ordered the wrong type of pizza for Christos, but I really didn't enjoy their cheese pizza.
Leo's Pizza
I did not know about this little joint until a date night with my girl (for once I had a plan). As I saw the small parking lot and the glowing sign, a good feeling began to creep into my heart. I walked in and immediately I was joking with the manager — BONUS POINTS. Once our order of a BBQ Chicken pizza was placed, we sat in the corner booth. Much to my surprise, a good friend of mine walked in named Miquel. He was there to gather with the rest of his Albanian friends to watch the Celtics game (not unlike how Albanian grandfathers gather at express yourself on Richmond ave). I've spoken earlier about ambiance but nothing can compare to a crowd of arguing Albanians. Once the pizza arrived, I was very pleased with the consistency of the crust and the texture of grilled chicken. These two things combined really made for a delicious base to this BBQ chicken pizza. The only addition to this pizza for me would be some more BBQ sauce; without this what could've been a stellar pizza fell flat.
DeCosta's Pizza
In all my pizza reviewing experience I have never tasted such a perfect combination of crust and flavor. DeCosta's is a sit-down pizza place in which you can see the oven from your cozy booth. I would totally recommend this spot for your next date night. (This review was sponsored by the Baglio's who kindly paid for my date.)