First Impressions of 2020 Candidates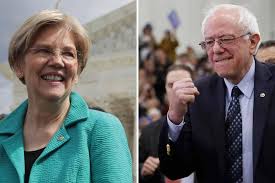 Hang on for a minute...we're trying to find some more stories you might like.
Unleashed welcomes editorials from all students. If you feel strongly about an issue, please share your ideas with us @unleashed.bancroftschool.org. Comments and response articles are encouraged.
In case y'all didn't know, the 2020 elections are approaching pretty quickly and politicians…and other people…all over the country have started to announce their candidacy. Now I – probably like a lot of you- would like to say I stay informed. I really do try my very best but life's pretty crazy here at Bancroft and sometimes I lose track of the outside world. This is all to say that I know very little about politics and up until this point in my life it hasn't mattered, but I'm going to be 19 for the next election so I need to get myself educated — and fast.
I've decided to start small with you guys and introduce you (and myself) to just a few of the people running, so without further ado here's a crash course (John Green, please don't sue me) of sorts.
As of March 7, there are 16 candidates officially running, 14 Democrats and 2 Republicans. Maybe it's because I'm new but that feels like a LOT of people… also I can't help but wonder where the Republicans are. To break it down, let's start with the ones you're hopefully familiar with.
Donald Trump: Yes, everyone's favorite Cheeto Man, Twitter Fiend, Apprentice Host, Mr. 45, Big Donny, is officially running for reelection in 2020.
Bernie Sanders: Also running again — America's favorite grandfather, Democratic-Socialist Bernie Sanders. To Bernie, I wish him luck and hope that America is Feeling the Bern a bit more strongly than they were back in 2016 because I just don't know if I can watch him get beat again.
Elizabeth Warren: If you're already scratching your head and wondering who on Earth this woman is, I would be a little more forgiving than to those of you who don't know the name of the current POTUS, but still concerned. Warren is one of our state's current Senators and is running as a Democrat. An interesting fact about Warren that I learned recently is that she got into a fight with Trump based on her (proven to be true) claims of Native American heritage although I don't love the fact that she claims this heritage despite being "anywhere between 1/64th and 1/1,024th Native American" according to the New York Times.
Now onto some interesting candidates you may not know
Pete Buttigieg: Who? Yeah, same. Buttigieg is running as a Democrat and stands out as one of the two youngest candidates, along with Tulsi Gabbard, both of whom are 37. This might not seem that young, but just as a reminder, you have to be at least 35 to run, so honestly this guy is on it. Buttigieg is currently the mayor of a city or town or something in Indiana, and honestly considering most of the other candidates are politicians on a national level, he seems a little under-qualified to me. It is interesting though that Buttigieg's campaign is predicted to be based more on an appeal as a young politician than on actual policy.
Marianne Williamson: Okay, I immediately take back what I said about the mayor. Williamson is a 66 year old Democrat whose resume includes being the author of self help books and a lecturer! That's absolutely crazy to me; I don't want to knock her because (obviously) I know very little about her, but I just don't know if the country could handle another non-politician president right now.
William F. Weld: Weld is a Republican who actually used to be Governor of MA (how bad is it that I didn't know that…). Despite being Republican, Weld has publicly challenged Trump's immigration policies and he's advocated for a more moderate approach on this issue as well as – I would guess – all around. Definitely some interesting stances.
Howard Schultz: For our last one (I can hear you all booing for here, but I must go, I'm sorry), I want to mention a guy who has not officially announced his run but is considered "likely" to do so. So this guy initially caught my attention because he's running as an independent! That's pretty cool, but also once I looked into it I realized I knew of this guy, and I bet you do, too. He's the Starbucks Executive everyone's been talking about! I'm not sure how I feel about another businessman in the office (like I said earlier) but as the only independent, I thought he was worth mentioning.
Here are some resources for you to check out if you're interested in learning more. The first link has a description of each candidate and the second one is about Elizabeth Warren.
https://www.nytimes.com/interactive/2019/us/politics/2020-presidential-candidates.html
https://www.nytimes.com/2018/10/15/us/politics/elizabeth-warren-dna-ancestry.html