Spotlight's on You: Barry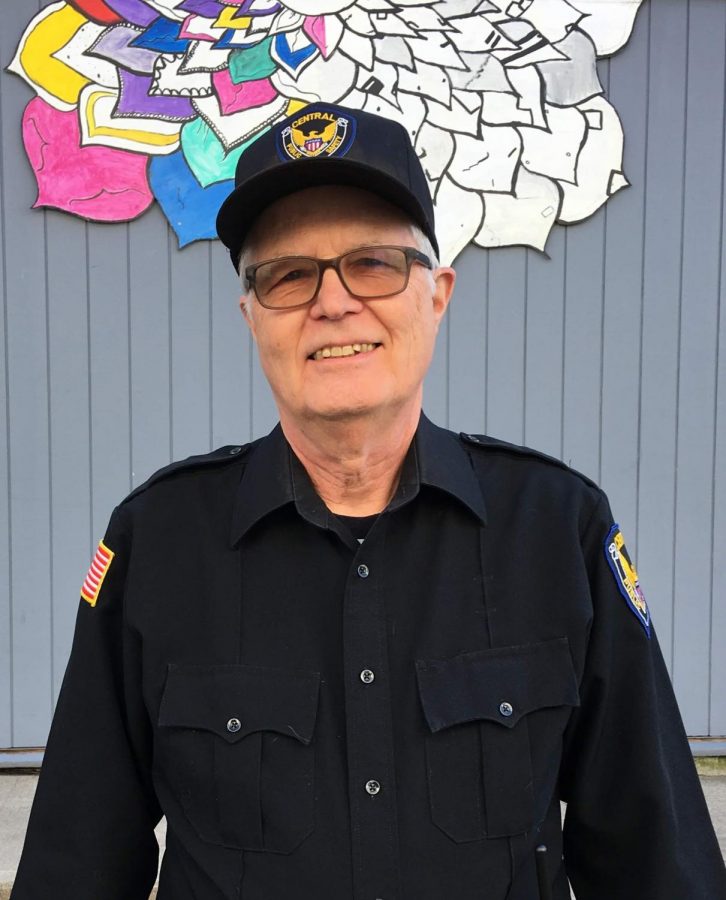 Alice Knowlton, Editor in Chief
February 12, 2019
It's not unusual for people to get ideas while engaged in habitual tasks. Maybe you thought of the perfect essay thesis while you were brushing your teeth in the morning. Maybe it was your daily run that finally helped you grasp an evasive math concept. For security guard Barry Homan, his regular walks around the Bancroft School campus yield inspiration for his creative writing. While for the past two and a half years patrolling Bancroft has been his day job, Barry is also a published author. His three novels, Whispers Through Time, Traces of You, and The Aura Reader, explore reincarnation, channeling, and other aspects of his spiritualist beliefs and experiences. I recently read Barry's first novel, which tells the story of Jill Palmer, a divorced mother who finds herself stuck in a rut until she reluctantly takes part in a past life regression which reveals many fascinating aspects of her previous lives and helps her get a better perspective on her current one. After reading the book, I met with Barry to ask him about his writing.
Barry has been interested in writing a book since his childhood but struggled to find inspiration. "I never really found a subject that I thought I could write well in," said Barry, "until I became a spiritualist and started attending spiritualist churches and going to psychic fairs, and then all of a sudden I had something I could write about." In particular, the concept of reincarnation has greatly interested Barry, who explained, "When I was young, maybe ten or eleven years old, I first heard about the concept of reincarnation, and for whatever reason, I instantly believed it. I've always kind of had it in the back of my head that reincarnation was real, I've lived many lives, but I never really delved into it until the 90s. That's when I really got deep into it, and I said 'this is what I want to write about.'"
The process of writing and publishing a book is notoriously laborious, so I asked Barry what his experiences had been with his three novels. "The first book took forever," said Barry. "I wrote half of it, and then I met the lady who I would marry in a couple of years, and my writing took a back seat. Then, I wrote the second half of it. I gave it to my daughter to proofread. She kept it for a year and handed it back to me and said 'I liked it.' Did no proofreading at all— and she's a teacher. I sent it to a publisher who said that they would publish within nine months. It took them two and a half years— so the first book was probably twelve years in the making. The second book I wrote basically in one year and got that one out. Third book is interesting because I was writing two books at a time, and neither one of them were going anywhere, and I suddenly got the inspiration to combine them, which worked out really well. I love the third book, and it's not a reincarnation novel as much as it is a fifty year old murder mystery, but it all tied together really well. It's certainly my best writing because I got a number of characters involved and they all interweaved very nicely. It just came together so well, so I really love that book."
Barry admitted that he, like many writers, struggles at times to accommodate his writing into his daily life. He called himself a "great procrastinator." Certainly the feeling is relatable. Still, Barry asserted, "When I finally sit down to write, I just love it." Barry's advice to young writers is to find a way to build writing into their day in whatever way they can. Barry told me, "I have a good friend who writes every day, or every night I should say. When she gets home from work, she writes from like 8pm to 1am. If you really want to be a writer, that's what you need to do. You need to go at it every day. Stephen King says that a writer is someone that gets up in the morning and makes a cup of coffee and sits down to write. He said everybody else are just amateurs, so I guess I'm an amateur. If you really want to be a writer, you have to build that into your day, every day." He also asserted the importance of writing what you know— and if you don't know about something, learn about it. "Research is really important," said Barry. "If you really want to be a good writer, write what you know even if you're writing fiction; if you're writing a crime genre, you have to talk to police, you know, talk to morticians or whatever. Research your book." It's not uncommon for Barry to draw inspiration from his own life experiences. A scene in which two characters meet at a spiritualist church in Barry's first novel echoes precisely how he met his wife, and a sinister house featured in his third book was taken from his childhood neighborhood.
Inspiration comes from many channels, but Barry explained one source to me in particular detail. Recounted Barry, "Because I'm a spiritualist, I listen closely to the voices in my head. The guides, the angels who give you information. I had a dream one night about Thomas Mann, who said he'd helped me with my books, and I had no idea who Thomas Mann was, so I looked him up. He was a German writer in the early 1920s who wrote about topics similar to spiritualism, not spiritualism itself, so Thomas Mann is in my book. He's a friend of Simon Taylor's. I used his actual name. So that's how I got that inspiration. My first two books, both of them, I thought I was done with— I had written the epilogue, I was all finished, and the second one in particular, I was working in Florida and I was riding in a golf cart down by the water. My mind was blank, and all of a sudden I heard this voice, 'You know, you forgot about such-and-such in chapter one. That would make a great ending.' And I— oh my goodness, how could I have forgotten that? I went home and added to the epilogue, and it made the ending so much better. The same thing happened in the first book, so it's important, I think, to listen to the inspiration that you get when you're writing."
Barry continues to write. Currently, he is working on the fourth and final novel of his series, and in future he intends to write a book intended for a middle school audience— perhaps "an old ghost story with a key and a map." Barry's first novel is available in the Bancroft bookstore, and all three can be found on Amazon. Barry himself is as always a familiar face around campus— perhaps the next time you see him, he will have just thought of a wonderful idea for his next writing project.