Broadway Bound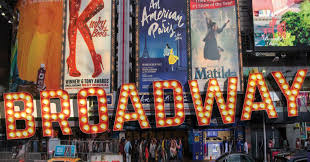 Hang on for a minute...we're trying to find some more stories you might like.
Calling all theatre kids! Broadway is the ultimate dream, right? But… how do you get there? Where do you start? How hard is it, really? Asking yourself these questions won't achieve much, but what about asking actual Broadway performers? The Broadway Collective, a Broadway master class which tours nationally every year, allows you to do just that.
The Broadway Collective offers an experience essential to aspiring Broadway performers. In six hours, students engage in a dance, acting, and vocal master class, all taught by Broadway performers who were once in your position themselves. You learn about the audition process and go home with an audition song; most importantly, you are shown that you have the confidence you may not have known you had. Each class provides new knowledge not only about performing, but also about yourself as a performer. Broadway Collective emphasizes the importance of recognizing where you are strong and where you need work. I know- it's hard to admit that there are things you need to work on, but ironically having a "weakness" does not make YOU weak as a performer. Feedback is an important part of personal growth, especially in theatre. The instructors tell it how it is, while also recognizing that as kids/teens, we don't have it all down yet. Put simply, you should expect straightforward suggestions rather than cruel criticism. All of this sounds great, but what happens after the class? Is that it? Am I set? No. The Broadway Collective guides you to your next step, too. If you are serious about a future career in theatre, The Broadway Collective offers a follow-up program called "Hello Broadway". Here you are offered an 8 week "incubator" program, along with a 12 month long program, where you are given weekly vocal, acting, and dancing assignments and required to upload them to receive feedback from real-life performers on Broadway! Only 2-3 hours a week could create a path to your biggest dream. If you use the excuse that you don't have the time, but still manage to have time to watch Netflix every night, something doesn't add up. Be committed, because with hard work, the future could hold something amazing for you.
For anyone serious about theatre, The Broadway Collective is a perfect step one. A room full of other talented people may seem intimidating, but the support you get and the confidence you gain during those six hours is not comparable to anything else you've ever experienced- So next time The Broadway Collective rolls around, sign up. There's no better time to start than now.