An Introduction to Kwanzaa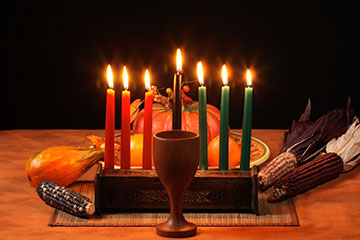 Victoria Adusei, Writer
December 18, 2018
Hello all,
I'm back again with another editorial to inform you of this amazing holiday that I recently researched. As you can see from the title, I'm here to talk to you about Kwanzaa.
The thing about Kwanzaa is that it's a holiday I've known about since I was in first grade, but I never really learned about what it was in school. I learned about Christmas (of course) and Hanukkah, but when it came to Kwanzaa my teachers would recognize that people celebrated it but never talked about what it was. I should have just researched it on my own but it wasn't something I thought I could relate to.
My first thought of Kwanzaa was that it was an East African holiday, and since I was West African I didn't think Kwanzaa had anything to do with my culture. This is where I was wrong. I started to do my research on this beautiful holiday and here's what I found.
According to the Dictionary, Kwanzaa is defined as a festival observed by African Americans from December 26th to January 1st as a celebration of our cultural heritage and traditional values. Kwanzaa was created in 1966 by Dr. Maulana Karenga, who was a professor and chairman of Black Studies at California State University. The idea behind this holiday is to unite the members of the African community and to recognize each other as part of a big family. There are seven principles, Nguzo Saba, and seven symbols associated with Kwanzaa. The seven principles are Umoja (Unity), Kujichagulia (Self-Determination), Ujima (Collective Work and Responsibility), Ujamaa (Cooperative Economics), Nia (Purpose), Kuumba (Creativity), and lastly Imani (Faith). The seven symbols are Mazao (the crops; fruits, nuts and vegetables), Mkeka (placemat), Vibunzi (Ear of Corn), Mishumaa Saba (The Seven Candles), Kinara (The Candleholder), Kikombe Cha Umoja (The Unity Cup), and Zawadi (Gifts).
Although I won't go into detail about what each of these seven symbols mean, I want to talk about the significance of the candle and how it's an important part to this holiday. Kwanzaa is seven days (December 26th to January 1st), so for each day a candle is lit. The importance of the Mishumaa Saba is to recreate the sun's power and to provide light. There are three red candles, three green candles and one black candle. The three green ones placed on the right represent Nia, Ujima, and Imani. The three red ones represent Kujichagulia, Ujamaa, and Kuumba. In the center, the black candle represents Umoja and is lit on the first day of Kwanzaa. As you can see each candle represents each of the seven principles.
There's a lot of information I want to tell you about Kwanzaa, but I want you all to research this amazing holiday and find out more for yourself. Anyway have a great break and Merry Christmas, Happy Hanukkah, and Happy Kwanzaa!
Works Cited:
History.com Editors. "Kwanzaa." HISTORY, A&E Television Networks, 14 Oct. 2009, www.history.com/topics/holidays/kwanzaa-history. Accessed 17 Dec. 2018.