Elves on a Shelf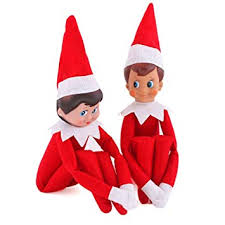 Hang on for a minute...we're trying to find some more stories you might like.
SO, Jack & Jill, my family's Elves on the Shelf are BACK AGAIN for another round of their favorite game "Have the Huffman Girls Been Naughty or Nice?"
For those of you who don't know the story, the Elf or in my case — elves — on the Shelf come to your house on Thanksgiving Day, usually after dinner, and watch you and your family until Christmas. They report back to Santa whether you've been naughty or nice. Soooo, behave! These elves, though, don't have much to keep them occupied — we're not really as interesting as we think we are — so, there's a lot of elf mischief that goes on throughout the day.
Click the video to see some of the shenanigans that Jack & Jill have gotten into so far this Christmas season. Remember, if you see an elf on the shelf, don't touch them or they lose their magic!!
Love always,
Annabelle