Best Things To Do Over Winter Break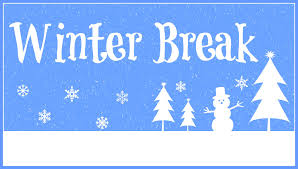 Serey Kremer, Writer
December 17, 2018
When I asked what the best thing to do over winter break was, the most common answer was…sleeping in! It is arguably one of the finer things in life, but let's be real—you can sleep in whenever you want — granted, you'll probably fail a few classes here and there, but it's possible! So if you wanna stray away from the masses or are simply just an early bird, here are a few activities you can do over winter break instead of just hiding beneath your fuzzy blankets!
1. Skiing or Snowboarding
Why not test out your skiing/snowboarding skills on the slopes of Wachusett Mountain, which is also where we have Mountain Day, with the wonderful Waffle Cabin nearby in case you need a snack break. And if you don't know how to ski or snowboard, well then break gives you plenty of time to pick up this new skill!
2. Have a Snowball Fight, Build A Snowman or An Igloo
Think you're too old for these? Well, maybe. Maybe it would be weird to see high school students frolicking in the snow, but think of it this way: your parental units just asked you to shovel the driveway that's covered in about 5  feet of snow, and you, being the kid that you are, obviously don't wanna do that. Well, instead of actually helping, why not just pick up some snow and start chucking it at random people down the street? Or why not build an igloo to escape your responsibilities? Just kidding of course. Shovel first if you have to, then use that leftover snow to either attack or create!
3. Dog Sledding/Snow Tubing
In case you don't have a hilly yard or any big hills around you, then why not take your doggo out and try dog sledding! But if you don't own a dog then you can always try Snow Tubing at Nashoba Valley in Littleton for $35. It also happens to only be 30 minutes away from Worcester and has 18 snow tubing lanes!
4. Ice Fishing
Don't let the ice deter you from fishing like you did back in the summer. Just grab your jacket and fishing supplies and start cutting a hole into any local pond or lake near you!
5. GingerBread House Competition
Instead of just decorating gingerbread houses, why not make a competition out of it where you have a certain supplies and limited time to make the best gingerbread house possible! With gingerbread people of course!
6. Polar Plunge
If you really enjoy the cold, then this could be the activity for you! Find a local lake or pond that's not completely frozen over and dive right in! Of course, bring the appropriate towels and clothing to warm up with afterwards because getting hypothermia over winter break is not a vibe.