Top 10 Books I Read in 2018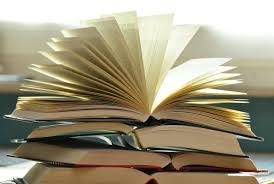 Look, I know, books are lame and don't compete against all the Netflix and the Hulu and (as Ms. Baker puts it) the "snappy-chat," but I swear BOOKS CAN BE JUST AS ENTERTAINING. Remember that reading a book doesn't just have to be for English class; you can do it for fun, too.
Anyways, quick disclaimer: this list was incredibly hard to narrow down. In 2018 – the end of my junior year and the beginning of my senior year – I somehow managed to read almost 60 books outside of school. While this was a lot of fun (mostly), it made narrowing down this list hard, so take the ordering of these books with a grain of salt because like I said: making this list was REALLY hard.
10. The Perks of Being a Wallflower by Stephen Chbosky
Although this book came out in the early 90s, it had a comeback with the movie that came out a couple of years ago starring two millennial icons: Ezra Miller and Emma Watson. I heard about it then through the trailers that seemed to be on every YouTube video and ABC family commercial break and this year, I decided to give it a shot. The book is about a boy's first year of high school and how he finds friends and starts to fit in. It's around 200 pages and written very simplistically which makes it easy to get through. If you're looking for a cutsie teen novel with a bit of angst and heart-touching moments, pick this one up.
9. Heretics Anonymous by Katie Henry
Probably the most light-hearted book on this list, Heretics Anonymous centers around a junior in high school who is forced to transfer to a Catholic school. Because he is a non-believer, he thinks that his new school is going to be horrible. However, on the first day someone in his class openly disagrees with one of the nuns. He goes to her, thinking she'll be another non-believer but he finds out that she doesn't share the same thoughts about religion – she actually wants to be a priest. She does, however, disagree with some of the things taught by the school so the two of them, along with a few of their friends, start a group called Heretics Anonymous whose goal is to expose the hypocrisies preached by the school. Despite the controversial topic, Heretics Anonymous is one of the funniest books I've ever read. It makes you think, makes you laugh at the characters, makes you get annoyed at the characters and makes you fall in love with the characters. If you want a light hearted book that also deals with a subject not typically talked about in novels, this one's for you.
8. Dear Martin by Nic Stone
This book is very similar to The Hate U Give which you may have heard about from its 92 week (and counting) run on the New York Times best seller list, or from the recent movie adaptation. Dear Martin is similar in regards to the way it centers around the Black Lives Matter movement and puts you in the perspective of a young black teen in America. The book also branches out to talk about other racial issues like affirmative action, micro-aggressions and white allies' place in conversations about race. It explored these ideas in ways that feel informative but not info-dumpy or like you're being talked down to. I highly recommend this book for people who were a fan of The Hate U Give or who want to read about modern race issues in America through a fictional novel.
7. Scythe and Thunderhead by Neal Shusterman
If you're a freshman, you may have already read Scythe for your summer reading book which I think is awesome because my grade had to read Lord of the Flies and let me tell you, that was a rough start to freshmen year. Anyways, Scythe and Thunderhead are based in a futuristic (possibly utopian?) society where every problem, including death, has been solved. To keep the population under control, people named scythes have to perform "gleanings" which is basically just a nice word for killings. The novels are from the point of view of two apprentice scythes who start to learn about all of the problems bubbling underneath the surface of their "perfect" society. If you've been itching for a new thought provoking yet entertaining utopian novel, pick this one up.
6. Big Little Lies by Liane Moriarty
This novel has been popularized by the recent HBO adaptation with Nicole Kidman and Reese Witherspoon. I personally watched the TV series first (sacreligious, I know) and then picked up the book a couple of months later. The writing in this book is so good that I, someone who knew exactly what was going to happen, zoomed through this 400 page book in only a few days. Big Little Lies does have some dark themes including sexual assault and domestic abuse but it still somehow manages to be entertaining and light at times. Even if you've seen the TV show already, I would recommend picking this book up and if you haven't seen the show yet, pick this book up and then watch the show. I will admit that it's a pretty good adaptation.
5. Room by Emma Donoghue
Not gonna lie this is probably the darkest book on this list. It's about a boy and his mother who are confined in a shed, which they call "room." To the boy, "room" is the entire world. His mother has been in there for 8 years and has never been able to explain to her son what the outside world is like. Eventually, they escape and both have to figure out how to live in the outside world after being trapped in "room" for so long. Told from the point of view of a five year old, the prose portrays childlike innocence and thoughts, which gives you a break from the dark and grueling themes of the novel. Although it is overwhelmingly depressing at points, it has moments full of hope and, like every other book on this list, I would highly recommend it.
4. The Inexplicable Logic of My Life by Benjamin Alire Sáenz
Every time I think about this book I can feel my usually cold and closed off heart start to warm. The book centers around Sal, his best friend Samantha and their new friend Fito going through senior year, trying to figure out what they want to do with their lives and dealing with all of their own familial issues. While the plot may not sound intriguing, by the time you delve into it you'll have fallen in love with the characters. The writing style is incredible, even lyrical at times which adds to the overall loveliness of the book. It's kind of indescribable (or inexplicable, get it?!!!) how good this book is – you just have to read it for yourself.
3. Eliza and Her Monsters by Francesca Zappia
Eliza and Her Monsters is about a girl who is famous on the internet for her anonymously posted webcomic. One day at her school she meets a boy who she later finds out is the number one fan fiction writer for her comic. The book follows their romance, as well as the journey of her coming out of her shell and learning to cope with her social anxiety. This book has been praised for its representation of mental illness, and it's one of the few books I've read that delves deep into this subject while still making her illness not her only characteristic. It's yet another book on this list that deals with deep, emotional issues that has a lighter style most of the time. While I would recommend this book to anyone, I think it would appeal especially to young adults going dealing with issues similar to the ones Eliza deals with.
2. A List of Cages by Robin Roe
A List of Cages by Robin Roe centers around two boys, Adam and Julian, who used to be foster brothers and have now reconnected after the school psychologist asks Adam to talk to Julian. From then on Adam and Julian's friendship and brotherhood starts to rekindle, and Adam finds out what is happening in Julian's home life. While the book is, at times, incredibly hard to get through due to the intense scenes depicting child abuse, there are beautiful moments of hope and positivity. My favorite quote from this book is "hate ricochets but kindness does too." It's such a beautiful line and I think it's something that we should all try and remember. I still think it's incredible that a book with themes this dark could promote as much happiness as it has. If you can get through the dark scenes in this book, I think you will enjoy it immensely and hopefully leave you with some good, happy vibes.
1. The Princess Bride by William Goldman
I'm not big on fantasy. I much prefer cuddling up with a contemporary book about characters my age with problems I go through every day. However, this book is amazing. You might be thinking "I've seen the movie, I'm good" but take it from someone who has also seen the movie countless times and adores it: the book is better! I know that phrase is basically a cliché at this point but trust me, you will enjoy this book. The book and screenplay are both written by the incredible William Goldman so you get the same humor for both, but because the book is purely words – as most books are – you get to see more of Goldman's witty style throughout the book. If you're looking for a light, fast paced fantasy book to read this winter break, pick this up. If you're looking for a different type of book, pick The Princess Bride up anyways. I promise you, you'll enjoy it.