Back to School Tips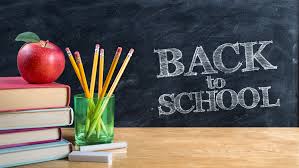 Hang on for a minute...we're trying to find some more stories you might like.
So hey, you made it back to school after hopefully a relaxing summer. Now we are back, another journey ahead of us, which could be either exciting, long, or stressful, depending on how you see it.
Here are some tips on surviving the first few months of back to school!
Try to get enough sleep.  
I know, it's hard, but try to get enough sleep. This can help you get through the upcoming day. If you can, try cutting back on watching Netflix till past midnight or checking your phone every two seconds and instead finish your homework and get into bed as soon as possible. This will help you get the energy to push through the days. If all plans fail, I guess if you really have to, could go the alternate route: Keeping a stock of caffeine and packs of candy and sugar close by and in handy.
DO NOT PROCRASTINATE
Don't be ashamed, we all do this one. I know what you are thinking. You would rather spend your time going through your social media or watching endless puppy videos instead of tackling the pile of homework you have in front of you. Trust me, I know. However, try as much as possible not to put something off. It will be better in the long route and make you feel a lot better. Then, after you can treat yourself with cute videos of penguins sliding across the ice or taking the time to browse the internet or whatever you would like to do.
Keep yourself as organized as possible.
Again, I know. This can be pretty difficult for some, considering that their room back at home is almost like a war-zone and one should enter at their own risk. You probably have already heard your mom saying to clean up your room so many times that hearing to be organized again at this point of time just annoys you. But maintaining a organized work ethic will be helpful in the long run. Keeping organized can be helpful by reducing your stress level since it is a efficient way of tracking where different items such as papers and other such things would be.
Keep your phone or other distracting devices away when doing your homework.
Don't be mad. We all know what happens when we keep our phones next to us when we try to do homework. We think we are able to handle both and multitask. But unfortunately the reality is you will get distracted if you do continue to do that. So, instead try keeping your phone as far away as possible just while you are doing homework and focus on finishing it. Then after, you will have all the time you want to do whatever you want. It is a much faster and relaxing way as well. Once you finish your homework, you are free to do anything. However, if you have a phone with you, you will be focused between both and spend time on homework later than you have to.
Use your time wisely.
During school days, we all usually have hectic schedules and during our free times, we would rather spend our time hanging out with friends or doing something else besides work. However, try to use your time wisely and keep a balance between relaxing and work. Don't try to do too much of either, otherwise it can be stressful.
Ask when you are in doubt.
If you ever need help with anything at all, use your resources such as friends, family, or teachers to receive help. Again, for some this might be tough but don't be afraid to ask. It can really benefit you if you happen to do so.
Try something new.
No matter how old or young you are, there will always be opportunities to try something that you have not before. Therefore, embark on the challenge of trying something new and don't be afraid if it goes wrong. You may end up with a new passion for something or you might discover that you end up absolutely hating it. However, by not trying something new, you will never know what happens. So therefore, I challenge you to try something that you never have before.
HAVE FUN AND JUST RELAX.
Most importantly out of all of these is to have fun and do what you love. Don't be afraid to spend time on yourself. When work takes over and you feel overstressed, don't be afraid to take a break…even if that means just coming home and binge-watching your favorite tv show and skipping your homework — although that is not an excuse to not do your homework everyday. But always remember to take the time to just sit back, relax, and to enjoy.