Walkout Reflection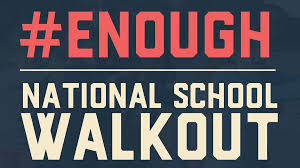 Around five hours after our day of activism, in coalition with the National School Walkout, I was giving a tour to a group of alums from the class of 1998. When I shared what Sam Bond and I had organized, they were impressed, but not surprised. Students at Bancroft have always exercised their independence; we see this on a daily basis, whether its students forming a new club, communicating issues with administration, or designing an Independent Study. Bancroft wouldn't be the school that it is without this culture, which became evident when talking to the alums.
On April 20th, Sam Bond and I organized a day of activism where student volunteers aided Upper Schoolers and Faculty in constructing a thoughtful argument regarding gun control regulation and then communicating it with local and federal lawmakers. This effort was a fantastic success, with several dozen legislatures called, written to, or emailed. There was also an opportunity to write letters of support to the Sandy Hook Foundation and the option to include a donation as well. Senior Mikaela Linder was also vital in registering eligible students to vote, ensuring their opportunity to vote when they turn 18.
To me, this day was incredible, and should happen more often. Yes, rallies and marches are important, but I don't think the true activists get enough credit. Take a look at the Sandy Hook Foundation, the student organizations who partner with them, or read about the work that survivors of the Parkland High shooting have been doing. It is these people, who do the same work we did on April 20th, who get laws passed. With that, I am also proud to say that Bancroft students played an important, though inconspicuous, role in this effort. Remember this day, for in the near future, when lawmakers take the steps necessary to end gun violence in our schools, you can say "I was a part of that".