Independent Study: Roman Gardens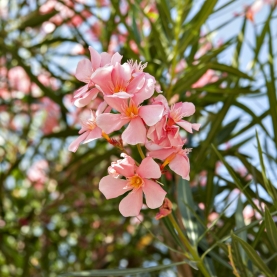 Hang on for a minute...we're trying to find some more stories you might like.
This year, rather than taking a mundane language, Gaia took an independent study– Roman Gardens: Design and Build.
Gaia and three other students, under the supervision of Mrs. Fuller and Mrs. Silverman, are creating a garden on campus with plants and structures used among the ancient Romans. Twenty-three kinds of flowers will inhabit the garden, all of which Romans used either decoratively, religiously, medicinally or in their kitchens. Gaia herself is working with Mr. McKone to build a sundial depicting an Oleander flower. Although the delicate pink beauties were grown decoratively in ancient Rome, Oleanders are also poisonous and not fit to be planted on a school campus. So, after many hours of planning in Google sketch-up documents, Gaia will laser cut the flower onto the face of the sundial.
Roman Gardens: Design and Build is a highly recommended class because it is so student-based and different from a classic language course. Instead of memorizing the 1st declension, students research Roman life and will leave a lasting mark on the campus. Plus no prior knowledge of the Romans is required!