Ocean's "Blond" Does Not Disappoint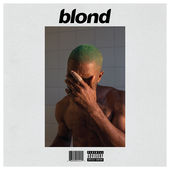 Hang on for a minute...we're trying to find some more stories you might like.
It has arrived. We waited 4 years, a presidential election, and another summer Olympic cycle for this long awaited album to drop. In case you live under a rock, or just don't go on Twitter, I'm talking about Frank Ocean. Late August he released his second studio album, Blond, along with a visual album, Endless, which did not disappoint his loyal fanbase.
Ocean has created something unlike anything I've heard in current hip hop — a hazy, psychedelic album with relaxed instrumentals and profoundly intimate lyrics. The songs are more like spoken poetry, covering topics of lost youth, sexuality, inevitable mortality, and most importantly, nostalgia. Ocean's vocals are overwhelmingly personal, and yet he remains distant to the listener. The lyrics have an overall feeling of ambiguity and often seem to contradict themselves; however, this only adds to the individuality that is Blond.
Blond reads as an album for introverts; it's calm and melancholy demeanor isolates listeners and brings them on a journey through the puzzle of Frank Ocean's mind. There are songs that revisit his past, like "Ivy," a hazy ballad of an old love. Then there are songs like "Seigfried," which tackles the concept of settling down, and inevitable mortality.
While the album's content may seem very deep, there is still a relaxed quality to the music that makes it so easy to listen to. While a few songs are just spoken words against some relaxed piano chords, the majority of this album is fresh, unique, and enjoyable music.
Overall, I would give this album 9.7 out of 10, and now that it's available to stream on Spotify and Apple Music I highly encourage you to listen.